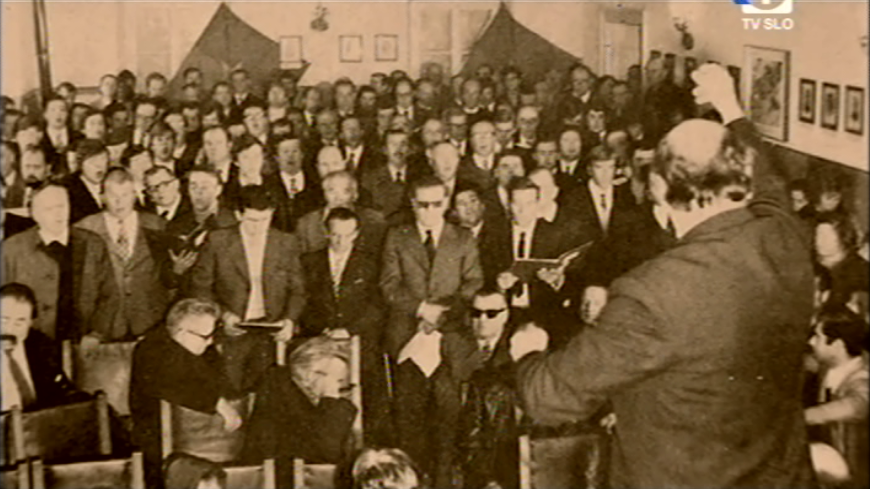 ☭ The Trieste Pinko Tomažič Partisan Choir was founded in 1972 in Bazovica/Basovizza near Trieste (Italy) on the initiative of former partisans. The main mission of the choir is to keep alive the tradition of the National Liberation War and resistance movement, to preserve partisan songs and transmit ideals of peace, brotherhood, unity, comradery, tolerance, equality of nations and acceptance of diversity in a world without borders.

☭ The first conductor and one of the choir founders was Oskar Kjuder, a former partisan, soldier of the Overseas Brigades and a nationally-minded Slovenian from a little village Lonjer/Longera near Trieste, who led and represented the choir for as many as 25 years. He was succeeded in this role by Pia Cah, a native of Križ/Santa Croce near Trieste, who has conducted the choir to date. In all its years of activity the choir staged over 800 performances. The Trieste singers carried the partisan and resistance songs across Italy, Slovenia and the entire former Yugoslavia, but the choir also performed in other parts of Europe (Austria, Greece) and in the former Soviet Union.

☭ The most recent performances include five sold-out concerts in the Trieste region, in Nova Gorica and in the Cankarjev dom arts centre in Ljubljana to celebrate the choir's 40th anniversary. In 2013 the choir organised the first independent concert in Stožice (Ljubljana) featuring several guest performances and attended by an audience of ten thousand people; a year later we performed (again in Stožice) as guests of the Red Army Choir from Moscow.
☭ Since its beginnings the choir has had a total of more than 500 members (singers, soloists, instrumentalists and reciters), both Slovenians and Italians from (mostly) Trieste- but also Goriška Kras region as well as Slovenians from various parts of Slovenia. For the last 15 years the choir has been enriched with female voices; its repertoire includes revolutionary, work and folk songs performed in various languages.
☭ At present the choir has over 100 members. There are only ten left who have been singing in the choir from its very beginning. But on the other hand the choir is pleased to be welcoming new members, in particular young people from both sides of the (former) border, who joined the choir in the recent years. Their arrival is a guarantee that the values fostered by the Trieste Pinko Tomažič Partisan Choir for more than four decades will continue to live in the future.